Khusbhu Sundar quits Congress in TN, joins BJP
Last updated on February 17th, 2023 at 12:55 pm
The actor-turned-politician had been a prominent face and the national spokesperson for the party in the state for the past six years.
Ending months-long speculation about a growing rift with the party, actor-turned-politician and national spokesperson, Khusbhu Sundar, announced her resignation from the Indian National Congress and joined the Bharatiya Janata Party in an event in Delhi. The move came just months ahead of the assembly elections in the state. Sources report that she had been unhappy about being denied a chance to contest during the 2019 general elections and that BJP has promised her a seat in the upcoming elections.
One day before the announcement, she sent out a cryptic tweet about change being inevitable. Later she released a letter addressed to Congress president Sonia Gandhi in which she said that she didn't join the party for monetary gains, name or fame and decided to end her association with them after a long, thorough thought-process. She wanted to sincerely work for the party but she was being "pushed and suppressed", she said. She alleged that few elements seated at higher levels within the party, those who were removed from the ground realities or public recognition, are dictating terms.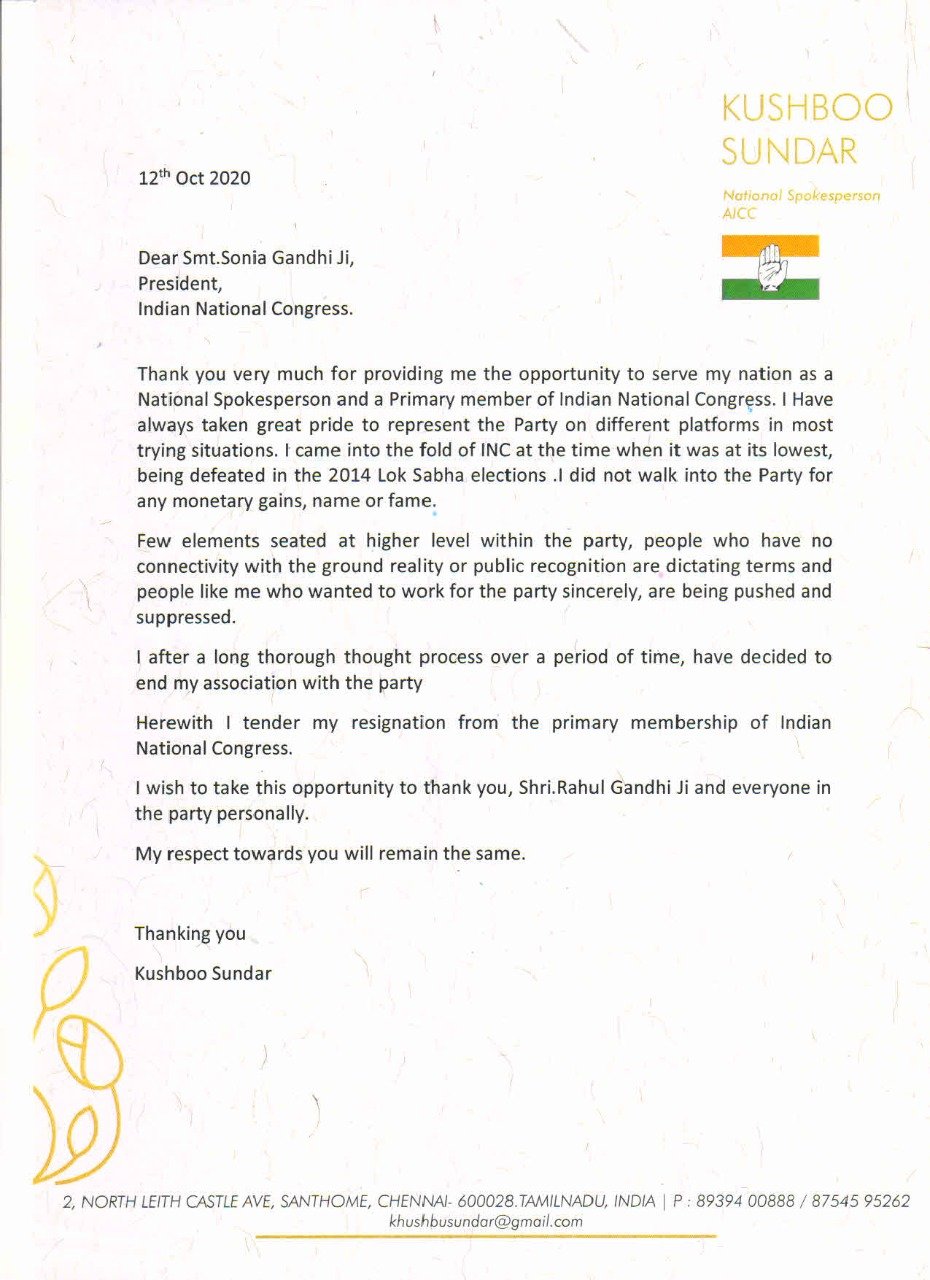 After joining the BJP, she said that her expectation from the party wasn't about what they can do for her, but instead what they can do for the country. She said when 128 crore people believed in one man, i.e Prime Minister Narendra Modi, they were doing something right. Sundar entered Tamil Nadu politics in 2010 as part of the Dravida Munnetra Kazhagam which she quit after disagreements with party head M K Stalin. Soon after she joined Congress in 2014 and had said that she was proud of joining the Congress as it is a secular party and that she felt at home there.
Congress leaders in the state dismissed her departure saying it won't affect the party in any way. Tamil Nadu Congress leader KS Alagiri said that for the past six months she had been acting against the beliefs and ideology of the party, probably referring to her comments in July when she came out in support of Centre's new National Education Policy. Congress in-charge for the state Dinesh Gundu Rao said she lacked "ideological commitment" and her exit would have zero impact on the party.
He said it was unfortunate what she was doing and even until a week ago she was criticising PM Modi. With the party being overhauled in the state ahead of the elections, Rao assured that they will not be sidetracked by such issues. He said the media might focus on the news for a couple of days as she is a celebrity but after that it will die out. He pointed out that she wasn't going to gain much with her move to BJP as there is a "big anti-BJP feeling" in the state. Maybe she was moving for other reasons and not politics, he said, without elaborating.
Read: IPL 2020: Rishabh Pant must be expected to be out for at least a week post injury